PREREQUISITE – MUST BE A GRADUATE OF Women only Workshop (WOW)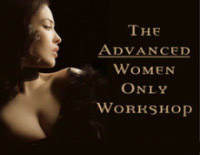 One of the most profound results of AWOW is falling in Love with yourself.
The experience is delicious and delightful It is the foundation of being a Lovable and Adorable woman. A Lovable and Adorable woman knows her needs and boundaries which are essential to self-confidence. This aspect of the training is essential for all women.
Finally, you will learn about the art of communicating with men and how to create a lifetime of intimacy.
ENROLL IN THIS EVENT